July 13, 2014. While almost everyone is impatiently awaiting the World Cup final, I set off from Banff, Canada (where I landed the day before), with the objective of reaching the Mexican border in 5 weeks at the most. Why 35 days? Simply because after that I have to go back to work. This adventure has a name: the Great Divide Mountain Bike Route – a course designed by Adventure cycling America that runs all the way to Antelope Wells, New Mexico.
53,000m of elevation gain spread over 4,400km of stony, dusty, muddy mountain roads, paths and tracks. All across some of the least populated states in the United States. A dream that I have been chasing for three years and that I am finally about to realize. Now you know me as an ultra-cyclist who specializes in off-road races and has won some of them. But I wasn't raised with my rubber on the dirt. I'm a city boy and if I had a solid bike touring experience in 2014, with several trips in Asia and Europe, I had virtually no off-road experience. That seems a bit crazy when you're about to embark for a journey that will be unpaved for 80% of its length, but that's how it is. Even crazier is the bike I chose for this endeavour. A titanium cross bike with 35c's tires. I built it with flat bars, disc brakes and a 3×10 shimano SLX groupset, but still. Not the ideal rig for the job.
It's around 1p.m. when I leave Banff. In the morning, I had to shuttle on a bus from Calgary where I had spent the night. Then I had to take my bike out of the box, put it back together, get a quick lunch, and a few other things … Hence this late departure.
My goal for today is the small town of Elkford, 170km from here. Knowing what I know now, I realize how foolish I was to think I could ride that far leaving so late. But hey, I'm of the optimistic type, and this will never change.
The first pedal strokes are exhilarating, obviously. A bright sunny summer day, a dirt road in the forest, the sound of my tires rolling on the gravel … I push a good pace and pass a few mountain bikers out for the day. Quite quickly, I arrive at a bridge under construction. Alright … it's mountain biking so it involves river crossings. No problem. Let's do this. We laugh about it with a couple of other cyclists who get their feet wet in the freezing cold water. But what I fail to realize at that point is that I am wasting precious time. The reason is that instead of crossing with my shoes on, I decide to take them off, make a first crossing with my stuff and then a second one with the bike.
I then end up on a large gravel road where a few cars proceed to lose me in thick clouds of dust. Whenever I can see, it's rather pretty out there. I even spot what seems to be a wolf not far from the road. Not too long after that, as I'm riding on a nice single track between the pines, I hear an unpleasant noise and come to a stop. I look at my bike and consider the damage. The chain broke, taking the front derailleur with it and breaking it as well. This is what we call a good start. I shorten the chain, removing the link that failed, and remove my derailleur as well. Off I go. A few kilometers further, fast downhill, pinched inner tube, puncture. More wasted time.
I am not worried yet since I managed to keep a good average. But it's about to drop dramatically. Soon I find myself having to climb my first pass. Steep gradients, rough surface, the occasional mud patch, not to mention the 8 hours of jet lag I have to deal with … It's simple: I'm stuck to the ground.
I look at my gps and quickly realize that I won't get to Elkford until dark.
Lucky for me, I get to the Boulton store before closing time. This lone shop near a campground allows me to resupply. A drink, a sandwich and a brownie in my hands, I leave the store to get back to my bike. I don't know how far I'll go but at least I won't starve. It's getting colder and before hitting the road, I decide to put on some warmer clothes. I have to be quick as, in a matter of seconds, I'm surrounded by hordes of bloodthirsty mosquitoes. In a semi-panic state, I hop on my bike and flee.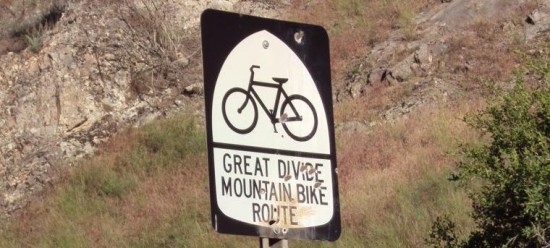 Now there's one thing I need to explain before going on. I had a lot to plan for this trip. I bought a frame and built it the way I thought would be best suited for this adventure. I also spent quite a bit of time researching ways to travel as light as possible. Especially regarding my camping gear. I never traveled with camping gear before, staying in dirt cheap hotels instead. But on the GDMBR, there's not enough hotels and they're certainly not as cheap as the one in South East Asia. I figured the lightest setup would be a homemade tarp. So I bought some silnylon, rope and a mosquito net. I had an idea in mind but I ended up not having time to finalize it. So I'm basically out there, without a shelter for the night, in the heart of the summer, in this lake region with millions of mosquitoes looking for a meal.
Every time I see what seems to be a hospitable place where I could maybe spend the night, as soon as I slow down and contemplate the idea of stopping, the little bloodsuckers swarm and start feasting, forcing me to make a run for it. I keep riding, exhausted and a little demoralized, knowing I'm gonna have to continue in the light of my headlamp. Feasible, but not ideal.
When dusk is upon me and the last bits of daylight give way to darkness, I notice a small wooden house. Both curious and hopeful, I get off my bike and walk to it. I push the door and, to my amazement, it appears it is open. I can hardly believe it! It looks like I just found the perfect shelter to spend my first night on the Great Divide. From what I understand, it's a self-managed hiker's refuge of some sort ("user maintained recreation site") known as Mile 70 cabin. Known by people who do their research before riding, but not by fools like me. There's no water and no electricity, just two bunk beds, a table, a few chairs. But it's all I really need. There's a candle on the table. I light it and settle down. I eat my sandwich, half of my brownie and my banana. It's perfect here. So remote, quiet and secluded. It's such an unexpected end to this day.
I have never been and never will be a fan of camping. There's something I love about the comfort of bed, four walls and a roof. I just sleep better, with a real peace of mind. So finding this cabin, it's a dream for me.
I remember parts of the ride, and it sure was nice. But the highlight of this day for me, the thing I'll never forget, that's the relief I felt when the door opened, and the peace in my own little cabin. This tiny house standing between me and the vast and somehow hostile wilderness. Don't get me wrong: I love nature. But when darkness comes, I just need a break from it. I need not to worry about animals, insects, rain, cold and whatever can happen out there. This little home in the woods is one of my fondest memories of years of bikepacking. The ride may not have been as hard as the one between Murgab and Sary-Tash. But the uncertainty was far greater and the surprise unforeseeable. In my previous story, the ride was exceptional and the ending as well. Here it's different. The ride was far from unforgettable, but the getting there now that was something!